Friday was a momentous day in Adelaide's history—the Aussie Bird Count Big Week came to town…oh, and the Holden manufacturing plant closed after decades of operation in the city, taking with it thousands jobs and significant chunk of the city's identity.
While there may have been some gloom hanging over Adelaide's mood, it was not apparent from the top of Mount Lofty, the highest point of the Adelaide Hills and only ten kilometres from the CBD. My early morning view revealed why Adelaide is such an excellent area for birds. The surrounding forest sloping to down the range to the plains still contains many woodland birds, and I could see the swathes of parkland that ring the central city area. These are mainly open parklands with plenty of eucalypts and not much ground cover, so suit mainly nectar-feeders such as Noisy Miners and lorikeets and ground-feeders like Crested Pigeons and various parrots, so chock-full of birdlife, but not necessarily great for the smaller, insect eating birds.
But the real jewel in Adelaide's bird crown are the wetlands and mudflats that could be seen stretching north along the coast from the fringe of the city. Much of this area is now part of the recently declared Adelaide International Bird Sanctuary, and it is to there that I would be drawn.
But at that moment the surrounding bush just below Mt Lofty's communication towers, was ringing with early morning birdsong—Superb Fairywrens, Grey Currawongs and the unique Adelaide form of the Crimson Rosella all competing for dominance of the local airwaves. Birds new to my Backyard Bird Count list included Yellow-tailed Black Cockatoo, Crescent Honeyeater and Bassian Thrush, which is now sadly something of a rarity in the Adelaide Hills.
Yellow-tailed Black Cockatoo: Andrew Silcocks
A caller to local talkback radio was saying that now that she had been laid off from the car factory, she and her family were moving to the Gold Coast to seek other opportunities. It struck me when I heard the blackbird-like calls of the Bassian Thrush, that many of the birds of the Mt Lofty Ranges, don't have the option of relocating. Over the decades much of the forested country of the Adelaide Hills have been cleared and those that remain are isolated and disturbed by weed invasion, alien predators such as foxes and cats and frequent bushfires. We have lost species like the Spotted Quail-thrush and at least six others since European settlement and those that remain have limited options if we don't protect, enhance and expand the habitat they need to survive.
Even in the cities, our green spaces, when managed for wildlife can become vital for local birdlife, either as a refuge for birds or as a corridor through which they can move from one remnant patch of bush to another.
The Adelaide Botanic Gardens are a good example of this. In a lunchtime walk with a group of keen beginner birders we managed a count of 18 species right next door to the city. While we didn't locate any of the smaller birds like thornbills and scrubwrens, the dense plantings of shrubs look like they would be capable of supporting them. The undoubted highlight of our 20 minute count was the pair of Australian Hobbies that conveniently put on a noisy display overhead. By the racket they were making, these small falcons must surely be nesting in one of the garden's magnificent tall trees.
And then it was on to the Adelaide International Bird Sanctuary. Or so I thought.
I was joined by BirdLife Australia's Aleisa Lamanna who is the Project Co-ordinator on the Sharing our Shores with Coastal Wildlife Project centred on the Bird Sanctuary. Our plan was to head to an area of coastal lagoons and mangroves in the sanctuary just to the north of the city, however, en route was another wetland just next door to the sanctuary where up to four Australian Painted Snipe had recently been seen.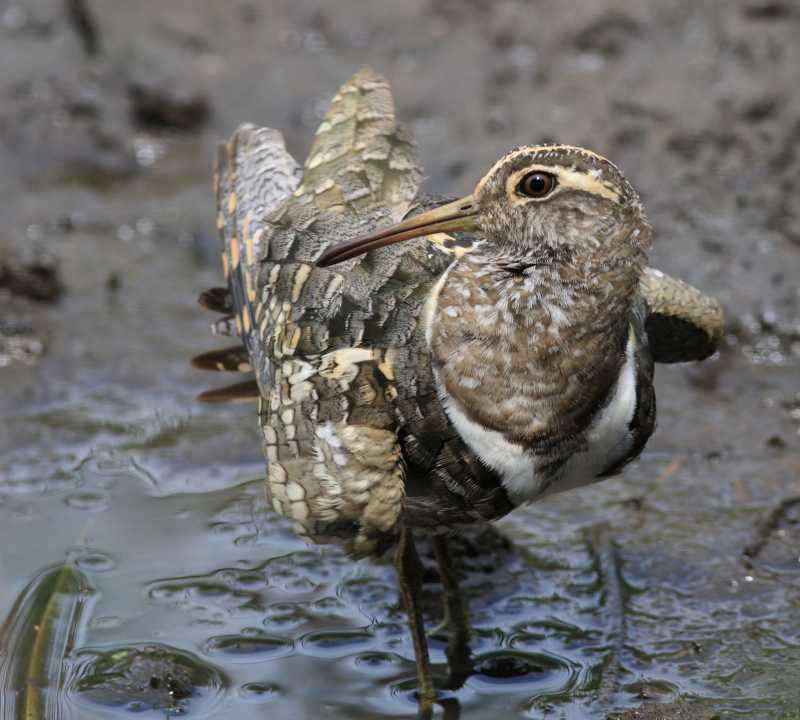 Australian Painted Snipe: Andrew Silcocks
Now the Painted Snipe of one Australia's rarest and most elusive waterbirds. There had been almost no records of this species anywhere in Australia for the past couple of years. But as the inland swamps where they breed have dried out in recent months a couple of Painted Snipes have been turning up in coastal wetlands.
This was too much of a temptation to make a detour and attempt to 'twitch' the snipe. We searched the man-made lake where the birds had been reported and although we saw many waterbirds including hundreds of the rather comical Black-tailed Native-hen scurrying about, and 32 rare Freckled Ducks, the snipe eluded us.
We still had time to get to the sanctuary and were just about to get into Aleisa's car when another birdwatcher approached. He had not seen the snipe either, but pointed out that there was another lake that they had been seen. What else could we do? When in Globe Park Derby…
At the next wetland were some new waterbirds for the list including Australian Spotted Crake and Black-fronted Dotterel but could we find the Painted Snipe? No, we could not. There was a photographer at the other side of the wetland and when we caught up with her, she almost casually said, "Did you see the snipe over there?"
And sure enough, there it was. Not only rare and extremely shy but a real beauty of a bird with crisp white underparts contrasting with a bronze/green back, velvety head colour and odd looking droopy bill.
Seeing this bird drove home to me the fact that while human activity such as car factories may come and go according to the whims of the market and economics, when we protect and nurture the environment, we can have treasures such as this Painted Snipe forever.