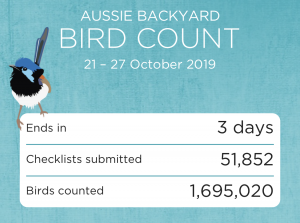 Data from the first 72 hours of BirdLife Australia's Aussie Backyard Bird Count shows Australians are counting 25 per cent more birds per minute (BPM) than 2018, with 1.5 million birds counted and four full days of counting ahead.
More than 19,000 Australians have submitted more than 45,000 20-minute counts since the Aussie Bird Count began on Monday; with tens of thousands more expected to join the count before it finishes on Sunday.
Leading the states is NSW, home to 35 per cent of Australia's overall counters, followed by Victoria (22%), Queensland (21%), Western Australia (8%), South Australia (7%), Tasmania (3%), ACT (2%) and NT (1%).
While it remains too early to predict which birds will finish in the top 20, data suggests there may be some new entrants including the Common Blackbird and Crimson Rosella. The data also confirms predictions that Australians would see more Crested Pigeons in this year's count due to dryer conditions.
Australia's Chief Bird Nerd Sean Dooley, who has been undertaking counts in various green spaces including remnant bushland, schoolyards, and coastal areas, says it's exciting to see so many Australians getting outdoors and learning more about their local birdlife.
"We have seen an incredible response to the Aussie Bird Count this year, with more people than ever keen to get outside and experience the wonderful birds we have right on our doorstep," BirdLife Australia's Chief Bird Nerd, Sean Dooley said.

"With four more days of counting to go, I encourage everyone to head outdoors and work on their BPM speed and help us count 3 million birds in 7 days," the Chief Bird Nerd added.
Amongst the 19,000 counters are Chief Counters: journalist Chris Bath, radio announcer Myf Warhurst, actor William McInnes, horticulturalist Jane Edmanson, musician John Williamson, and comedian Alex Lee.
The Aussie Bird Count app allows you to take part anywhere—not just backyards, but in local parks, botanical gardens, schoolyards or beaches—wherever you might see birds.
The national total continues to be updated in real time, and the app allows you to see which species are being seen in your local area.
Start spreading the word with #AussieBirdCount.