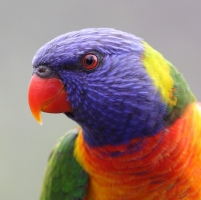 In less than one month, Australians will discover if the Rainbow Lorikeet—which has remained the most counted bird in Australia since the Aussie Backyard Bird Count began in 2014—is still one of the country's most common backyard birds.
To help find out which birds continue to share our backyards, Australians are being asked to join the Aussie Backyard Bird Count, during National Bird Week from 22-28 October and record the birds they see in their backyards and favourite outdoor spaces.
While the Rainbow Lorikeet is easily recognised by its distinctive squawk and bright rainbow colouring, other birds can be easily identified and counted using the specially designed app, which helps people identify local birds based on size, shape, colour and location.
In order to count more than 2 million birds in seven days, BirdLife Australia is calling on all Australians to join the count during National Bird Week and to encourage their friends and family to join in and discover the birds in their backyards too.
BirdLife Australia's Sean Dooley, who has counted birds across the country and seen thousands of Rainbow Lorikeets over the years, believes the count is an important way to connect people with nature and to notice the birds that live around them.
"Every year thousands of Australians provide important data to see what's happening with Australian birds living in our backyards, including the colourful Rainbow Lorikeets," Mr Dooley said. "We are extremely interested to see which birds top the count and how the ubiquitous Rainbow Lorikeet fares across the country in this year's count."
In 2017, Australian birdwatchers recorded more than 578 species, with the Rainbow Lorikeet, Noisy Miner and Australian Magpie remaining Australia's most counted birds. The count saw more than 72,000 nature-loving Australians taking time out from their busy schedules to count more than 1.9 million birds.
The new, updated Aussie Bird Count app (available now from aussiebirdcount.org.au) allows you to take part anywhere—not just backyards, but in local parks, botanical gardens, schoolyards or beaches—wherever you might see birds.
The national total will be updated in real time, and the app allows you to see which species are being seen in your local area.
Start spreading the word with #AussieBirdCount.