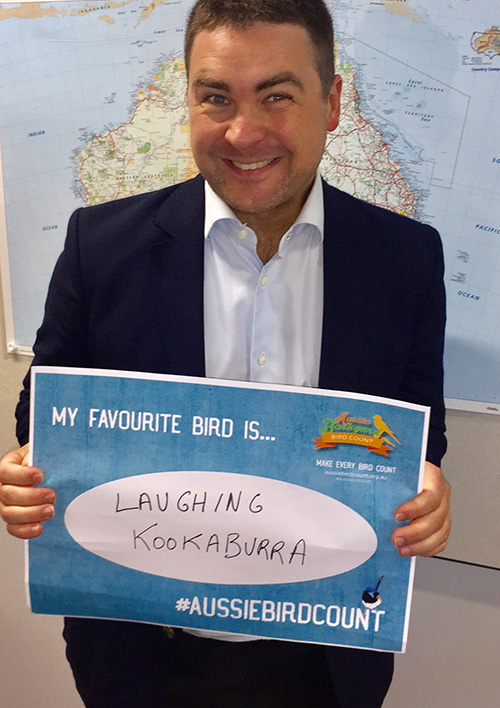 Jack Walden is the publicist to the birds, and has been supporting the national media campaign for BirdLife Australia's National Bird Week for the past five years. His favourite bird is the Laughing Kookaburra … because it always makes him smile and he remembers their early morning visits growing up on a farm in Queensland.
When did you discover your passion/interest in birds? 
I grew up on a farm in Queensland and loved the birds that shared our 'backyard'. I can still remember the Rainbow Lorikeets that would fly from the tree just outside our kitchen window. Over the past five years I've had the opportunity to learn a lot more about Australian birds and meet some fascinating bird watchers from across the country.
Which Australian bird is your favourite and why?
One of my first bird-related memories is a laughing kookaburra who used to sit just outside my bedroom every morning. They are such a majestic bird and truly iconic. I also love their bird call… it never fails to put a smile on my face!
Where will you be doing the #AussieBirdCount?
I live in an apartment so my backyard is either the Royal Botanic Gardens or Fawkner Park. I'm lucky that I get to count across Victoria (and sometimes) Australia, during National Bird Week … so I get a variety of green spaces to choose from. But my biggest discovery, is the amazing number of birds I can see from my balcony. It's amazing to see a whole range of species flying around and making themselves comfortable right in the heart of the city.