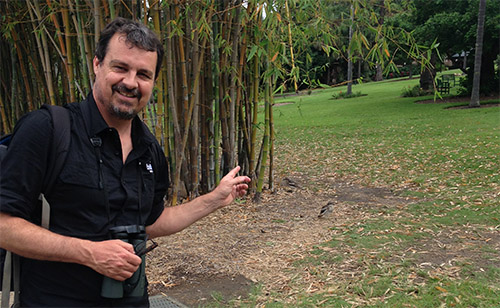 Whenever I arrive in Brisbane, I seem to have Go Between songs playing in my head. For me they epitomise the sound of Brisbane as much as a Channel-billed Cuckoo flying over ahead of a summer storm. 
Today I had both "Here Comes a City" and "Spring Rain" from the Go Between back catalogue running through my head. Each day brings a new city with new birds to explore so "Here Comes a City" seems apt. And there was plenty of spring rain to accompany my visit. In fact it had been raining for a week before I arrived.
So much so that the creek that runs over the JC Slaughter Falls in Mt Coo-tha Park just a few kilometres from Brisbane's CBD, was running for the first time in months.
The count begins with a coffee shake off
Well so said, my companion for the morning's bird count, Andrew Stafford, a freelance journalist who literally wrote the book about the Brisbane music scene: Pig City: From Saints to Savage Garden. Andrew was rather bleary-eyed when I met him before six as he had been out at the Midnight Oil gig the night before. On the way to Mt Coo-tha, we stopped for coffee to revive him and I realised that I had not had a cup of coffee all week. I had no need for it—birding was my caffeine this week!
A Brush-turkey spotted first amidst the rain
The rain made it rather hard to find many birds, and up on top of Mt Coo-tha we were immersed in the clouds. The first bird we saw was a Brush-turkey huddling under the fromds of a small tree trying to stay dry.
Nonetheless we did see many forest birds that I won't see in any of the remaining cities—Eastern Whipbird, White-throated Honeyater and Little Shrike-thrush. While the rain put a dampener on this, it was still astonishing to be in such a wild looking area yet only be about 5 kilometres from the city centre.
Talking the Secret Life of Australian birds at the ABC Brisbane
It was then into ABC Brisbane for two fabulous interviews with Richard Fidler and Kelly Higgins-Devine. Joining me for Kelly's interview was Monica Awasthy who runs our Birds in Backyards program, one of the jewels in the BirdLife Australia crown, combining masses of useful information on how to attract birds to your garden, as well provide a broad citizen science base that provides valuable information all year round about our garden birds. (Monica does have a PhD in urban bird ecology after all!). So if you enjoy the annual Aussie Backyard Bird Count, why not consider joining up with the Birds in Backyards team to contribute information throughout the year.
Brisbane Botanic Gardens with 20 bird lovers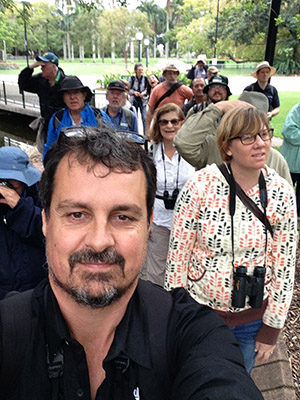 After our interviews we headed to the city botanic gardens (there is also a brilliant bushland style botanic gardens at Mt Coo-tha) to do a bird walk and counts with about 20 people. The rain stopped just before we began and started just as we finished, so the timing couldn't have been better.
While we didn't see an enormous number of species, there was plenty to keep us entertained. Not least was the presence of four Bush Stone-curlews. One of them even gave its eerie wailing call. These are extraordinary looking birds- all bulging eyes and ridiculously long spindly legs supporting a body that is well camouflaged to look like dead sticks. These birds have died out in many woodlands down south, victims of foxes and maybe cats as well as land clearing. But somehow, they manage to thrive around Brisbane, including the CBD! Amazing.
A Diamond Python spotted in the heart of Brisbane
Almost as amazing were the reptiles. Impressive Eastern Water Dragons stood sentry at the ponds but the star of the show was a two-metre-long Diamond Python (or Carpet Snake as it is sometimes known) that blithely explored a garden bed right next to the main track. To have such incredible creatures in the heart of the city is remarkable, a sure sign that Brisbane is still a wonderful place to view wildlife, birds included.
Join the fun, explore the distinct bird species you haven't seen yet just at your backyard.
Make every bird count