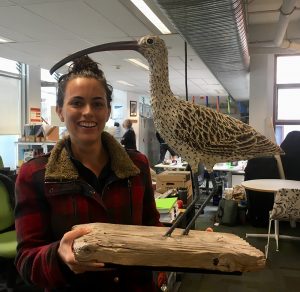 Amanda Lilleyman works as a researcher at Charles Darwin University on the project 'strategic planning for Far Eastern Curlew' – a research project funded by the National Environment Programme and Darwin Port. The project aims to understand the ecological requirements of these critically endangered shorebirds so that the birds and their coastal habitat can be managed alongside sustainable development. Amanda has been researching migratory shorebirds in northern Australia for seven years and is also completing her PhD. She recently helped established the BirdLife Top End branch and is keen to get more people birdwatching in Darwin. Amanda talks about birds on the ABC Darwin radio every fortnight and will often identify birds through a description or a call played or imitated. From her balcony at home, she can see Brown Honeyeaters, Crimson Finches, Double-barred Finches, Spangled Drongos, Torresian Imperial Pigeons, and once heard a Rufous Owl at night. The tropical Top End is a fabulous place to spot some birds!
When did you discover your passion/interest in birds?
I discovered my passion for birds in my undergraduate science degree where I learned about the ecology and survey methods to detect birds. I then decided that they were the easiest to see (out of all the animal groups) and the most rewarding – being everywhere and so beautiful, that I stuck with them! This was close to ten years ago.
Which Australian bird is your favourite and why?
My favourite Australian bird is a migrant shorebird (surprise, surprise!), the Bar-tailed Godwit. I love this godwit for its sleek beauty, its epic migration and because I nursed one back to fit health and subsequently learnt about its successful migration through resighting records.
Where will you be doing the #AussieBirdCount?
Although I normally live in Darwin and count birds in the Top End, I will be in Hobart, Tasmania where I will be attending the Australasian Shorebird Conference during the #AussieBirdCount.