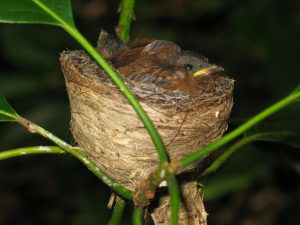 Jackie French AM is an Australian author, historian, ecologist and honourary wombat (part time) who has lived for more than 40 years at the top of the gorge in the Araluen Valley, where her ancestors lived too.
When did you discover your passion/interest in birds?
When I was four in suburban Brisbane, sparrows were the only thing that moved in the middle of the day, except the algae that grew and turned in the gutters, but that is another discovery story.
So I watched the sparrows, what they ate and where they nested and who they chose to mate with.
Which Australian bird is your favourite and why?
Possibly Lyrebirds as they are the dumbest birds in creation and believe they can hide behind a fence post, but more likely Wedge-tailed Eagles. They wait till the afternoon shadows start creeping up the mountainside here in the valley, then ride the thermals 1,000 metres up to the cliffs without a single wing flap.
Where will you be doing the #AussieBirdCount?
The north end of the Araluen Valley, NSW- the Major's Creek Gorge country. It's on the route for many migratory birds, but I don't think any are due during the bird count. Even the rufous fantail doesn't arrive till mid October. (They nest here, too).