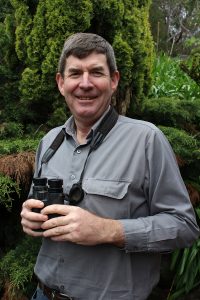 Les Moore says "bird watching is not just about the birds, it's about the people you meet and the outdoor experiences you share". Bird watching is a truly social activity and one of the highlights of Les's year is volunteering with a bunch of like minded birders for the annual Orange-bellied Parrot surveys in one of his other backyards, the Coorong National Park. Several decades on from his introduction to birds and the natural world by his mum, his life continues to be filled with the joy of encountering a rare species for the first time, or seeing your everyday species going about its daily routine. Even when working, he can be bird watching with an ear open to the birds Les hears around him on the job. He can be bird watching all day, just not necessarily with his eyes.

When did you discover your passion/interest in birds?
At the age of 6 when I joined the NSW Gould League of Birdlovers.
Which Australian bird is your favourite and why?
There are so many favourites, but picking one would be the Superb Lyrebird because of its extraordinary capability for Mimicry.
Where will you be doing the #AussieBirdCount?
Mostly in the Belair area and East of the Adelaide city area.