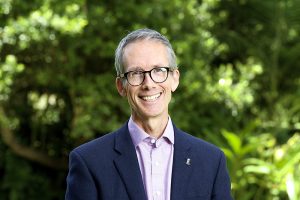 Professor Tim Entwisle is a highly respected scientist, scientific communicator and botanic gardens director. He took up the role of Director and Chief Executive of Royal Botanic Gardens Victoria in March 2013, following two years in a senior role at Royal Botanic Gardens Kew, and eight years as Executive Director of the Royal Botanic Gardens and Domain Trust in Sydney.
When did you discover your passion/interest in birds?
I'm still becoming a convert. I've always been jealous of the attention birds get over plants, but over time I'm getting to appreciate them for themselves, and not just as pollinators and spreaders of seed!
Which Australian bird is your favourite and why?
The Nankeen Night-heron. I love watching it skim beside me on the Yarra River when I kayak very early on Saturday mornings. Beautiful colour, and movement. We have them in Melbourne Gardens too.
Where will you be doing the #AussieBirdCount?
At Melbourne Gardens, Royal Botanic Gardens Victoria. Where else (well, other than Cranbourne Gardens, which is a hot spot for birding)?