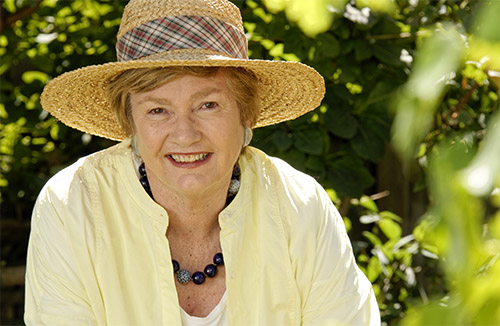 Jane Edmanson is a popular gardening presenter on television and radio, as well as an author and co-author of several gardening books. She is also a long-time member of BirdLife Australia with a passion for the birds who share her backyard.
What do you like about the Aussie Bird Count?
The count is such a good idea. It doesn't matter whether you're a fully-fledged birdwatcher with an unbelievable ability to see birds, or an ordinary person like me who happens to see a sparrow or a magpie and tally it up. It's such a lovely thing. People can look, and count, wherever they like.
What do you like about bird watching?
It grounds you and connects you with what's happening outside your backdoor. Sometimes when I wake up in winter, there is this beautiful butcher bird. They're a sign of the time of year and like gardening help tune you to the seasons. Some people are not aware of the seasons anymore. Getting out there and seeing the birds helps us make sense of the seasons and keeps us in tune with nature. It's very easy to sit behind a computer all day or look at our mobile phones, and bird watching is such a lovely thing to do and get us out there looking.
Tell us about some of your favourite birds?
Growing up it was the beautiful Rainbow Bee-eaters. On the summer evenings, it was like they were having a party. Living on the Murray we also had the wonderful little budgerigars, but sadly you hardly see them nowadays. And I remember the pelicans fishing on the river. They were so clever and would get in a line swimming along and force the fish into their paths. Closer to home my very favourites are the little Blue Wrens. I look at the males, with lots of little females around them, and think 'aren't you a canny little one'.
How can people attract birds to their backyards?
If a garden doesn't have birds visiting it's not alive. I like it when birds come along and use whatever is in my garden to get their nutrition. The key is providing water, shelter and plants that give them nectar. I also suggest growing a variety of plants that will attract different birds to your garden. There's plenty of ways you can learn what to grow.
Do you only birdwatch in your backyard?
I love seeing birds out in the bush. It's just like going into the bush and seeing little native orchids … I think gardening and birdwatching go hand in hand. My brother and his wife also get a lot of pleasure out of birds. They've recently moved and I enjoy hearing about the birds they're discovering as they explore their new home.
Join the #AussieBirdCount from 22-28 October at aussiebirdcount.org.au