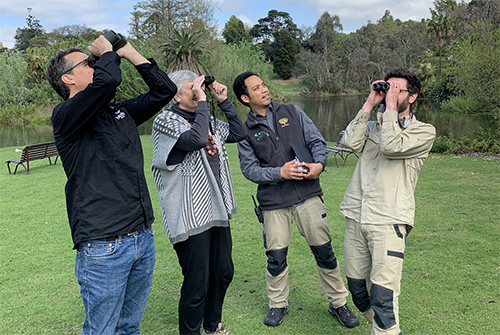 A friendly count-off between Melbourne and Sydney may have ruffled a few feathers, when Melbourne claimed the title of bird-friendliest city last Friday during the launch of BirdLife Australia's Aussie Backyard Bird Count.
The long-running competition between the two cities reached new heights with counts taking place on the same day and at the same time in the Melbourne and Sydney botanic gardens.
In Melbourne, Gardening Australia's Jane Edmanson joined Chief Bird Nerd Sean Dooley, while City of Sydney Councillor Jess Miller joined Urban Birds Program Manager Holly Parsons in Sydney.
After 20 minutes of counting Melbourne had recorded 25 species, beating Sydney's 17.
Counting in the official Aussie Bird Count runs from 21-27 October, with the aim of counting 3 million birds in 7 days.
Bird watchers in both cities have the opportunity to prove their city has the most variety of birds by downloading the app at aussiebirdcount.org.au and heading to their favourite green spaces.
Sydney counters will joined by journalist Chris Bath and comedian Alex Lee, while Melbourne bird watchers will be supported by radio announcer Myf Warhurst, actor William McInnes and horticulturalist Jane Edmanson.
"Every year we see cities and states becoming more competitive in their quest to become the bird friendliest parts of Australia, and we're looking forward to seeing which parts of Australia record the most birds and the most species in 2019," Chief Bird Nerd Sean Dooley said.
The updated Aussie Bird Count app allows you to take part anywhere—not just backyards, but in local parks, botanical gardens, schoolyards or beaches—wherever you might see birds.
The national total will be updated in real time, and the app allows you to see which species are being seen in your local area.
Start spreading the word with #AussieBirdCount.