The dazzling intensity of the light in Perth—even in spring—really hits you when you first arrive. Sprawled out under some seriously big skies on the coastal plain between the hills and the Indian Ocean, the quality of the sunshine here is unlike any other capital city.
Sean Dooley is on a national #AussieBirdCount tour and started in Perth on Sunday 15 and Monday 16 October.
And the quality of Perth's birds is outstanding too. By the end of Day One of my Big Week of the Aussie Backyard Bird Count, I had managed to visit the forested escarpment, some of the wildlife-filled lakes, the foreshore of the Swan River Estuary and the wonderful Botanic Gardens in Kings Park, a remarkably large tract of bushland right on the doorstep of Perth's CBD.
The diversity of locations was reflected in the diversity and numbers of birds. At Bibra Lake on a birding walk with members of BirdLife Western Australia, there were not only a variety of waterbirds, including all three species of ibis, which interestingly were all unknown from the Perth region at the time of European settlement. There were a number of Glossy Ibis, including a flock of 14, birds that I really did not expect to see on my Big Week.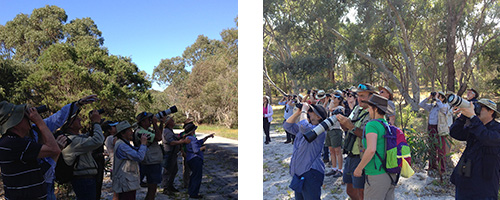 There were even more birds in the surrounding bush, including a nesting Tawny Frogmouth, cuddling up to her adorable fluffy chick— more muppet than bird— and a Southern Boobook, our smallest owl, poking its head out of a nest box. It shows how vital hollows are for our —owls, kookaburras, and especially parrots— and in the suburbs hollows in trees are highly sought after real estate. Our tendency to cut down any slightly sickly looking tree in the name of health and safety has left a dearth of suitable hollows in our cities. Artificial nest boxes go some way to easing the hollow nesting crisis, but nothing beats a natural tree hollow!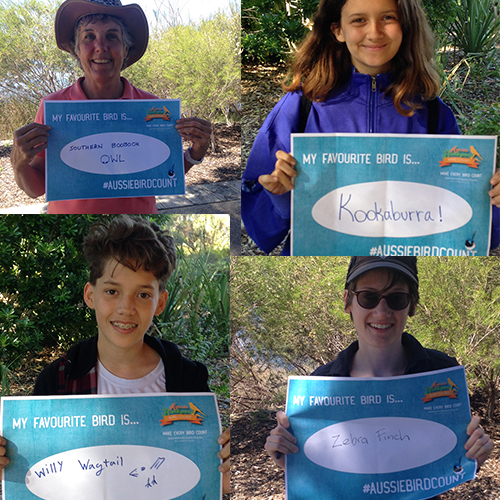 What is your favourite bird? Let's find out the favourite birds of members of birdlife in WA
A brief walk down on Musk Dusks
There was also several Musk Ducks. Named because of the funky musk odour that stank out the boat of one of the early Dutch explorers who shot them for their larder when they sailed into the Swan estuary. These bizarre looking ducks—peppery grey and low to the water with an outline like a submarine— were in full courtship display.
The males, who have a weird lobe of flappy skin dangling under their chin, would stick their wire-brush looking tails straight into the air, emit a piercing electronic sounding ping and shoot water behind them with their wings. The female Musk Ducks seemed quite impressed and would follow him around in the water, to get the best seats in the house for this spectacular show. There were some excellent hollows in some of the big old trees in the Kings Park Botanic Gardens.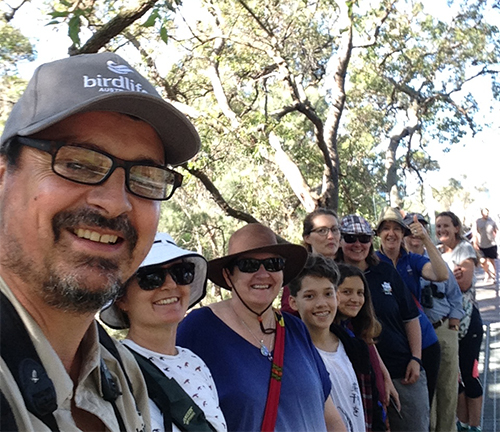 For my Backyard Bird Count here, I was joined by a number of people on the magnificent boardwalk that allows you to wander through the canopy of several iconic Western Australian eucalypt species. The real highlight here was seeing both the Carnaby's and Red-tailed Black-Cockatoos.
The life of Perth's Carnby's black cockatoo in danger
Carnaby's Black-Cockatoo, once a common and much-loved feature of the Perth skyline, is now Endangered due to ongoing clearing of its winter feeding habitat up and down the Swan River coastal plane. Results from BirdLife Australia's "Great Cocky Count" show a consistent decline in numbers of around 15% per year, a rate of loss that will see the species extinct in the Perth region in the next 15 years if the same trend continues. The Great Cocky Count is an invaluable citizen science project where volunteer counters, set themselves up in the autumn evening to watch the birds come into their overnight roosts. Without ordinary people getting out and counting (just like a targeted backyard bird count) we would never have been able to prove there was a decline, and bring to the table a strong scientific basis in our battle to save these birds.
But any sadness was overshadowed by the sheer joy of seeing these magnificent birds doing their thing. You could not wipe the smiles off our faces. Most impressive was the chewed Marri nuts that the spectacular male Red-tailed was showering down on the ground as he fed. These things are seriously hard—like little concrete conker balls—so the power in those huge mandibles must be extraordinary.
I'm off to Darwin this afternoon. I may be able to sneak in one last backyard count in Perth, and we have a stopover in Alice Springs. I wonder what I can count from the airport lounge?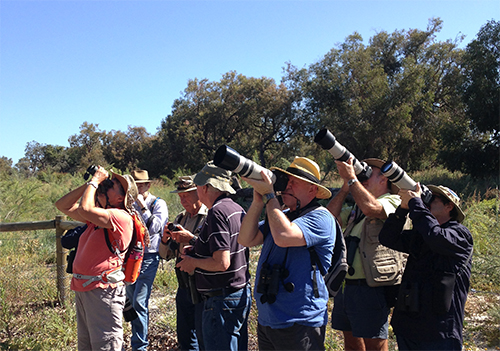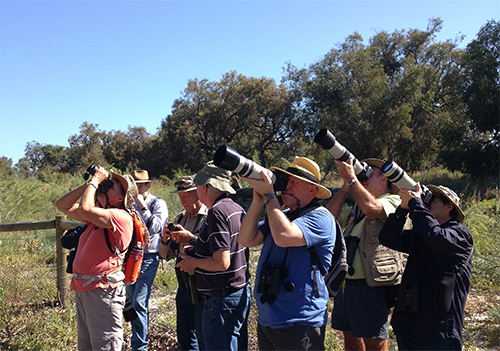 Keep on twitching.