You're a Superb Lyrebird!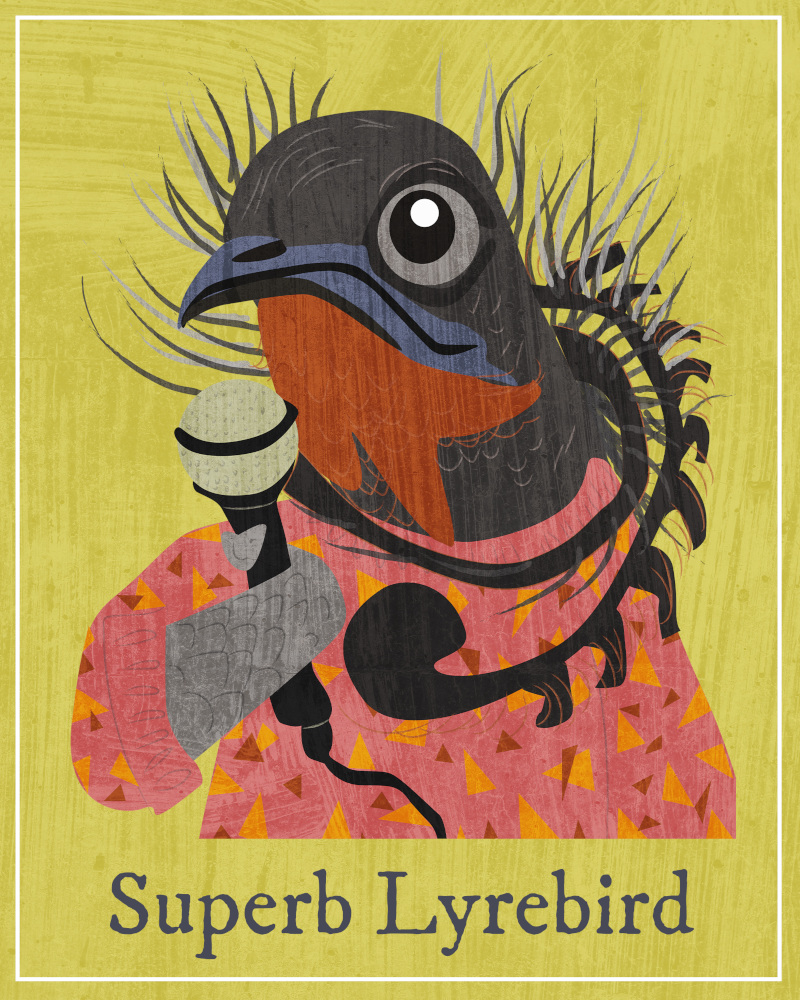 Respectfully, you are LOUD – you never really listened when you were told to keep it down. Yours is a voice that makes heads turn, and, though you're shy, you thrive in the spotlight – you're the loudest call in the wet sclerophyll forest and are an Australian (and karaoke) icon in your own right. You're a natural born leader – you have an air of confidence about you that people gravitate towards, but you do have a tendency to be a little dramatic. You're skilled at the art of persuasion too and great at winning people over – yes, that car alarm echoing through the forest is very convincing…
---
Taking part in the bird count is easy. Just take a seat and admire the birds!
Spend 20 minutes in your backyard, local park, farm, balcony, or anywhere you can see birds, and tell us what you see in those 20 minutes. You can submit your count using the web form or the app – both come with a handy bird finder to help you identify what you see.
Count as often or as little as you like. Some people count multiple times per day, others only once or twice for the week. Every count helps.
---
More about the Superb Lyrebird
The Superb Lyrebird is renowned for its outstanding ability to mimic almost any sound, and the calls of most birds of the forest are imitated, as are many other sounds, from barking dogs to car alarms to mobile phones. It is also famous for its stunning courtship display, in which the male lyrebird fans and shimmers his stupendous tail feathers while prancing, strutting and jumping about on a stage of leaf litter. By combining his mimicry and dancing ability, the male hopes to attract a mate. Few can resist!
The Superb Lyrebird occurs in the south-eastern Australian mainland and southern Tasmania. It was not considered a threatened species before the 2019–20 bushfires. However, this important ecosystem engineer may no longer be secure, as it is thought to have a relatively poor ability to escape fire and analyses by BirdLife Australia suggest over 40% of its distribution was impacted by the recent bushfires. Cats and foxes prey upon lyrebird nests and may be impeding their recovery. Introduced herbivores, such as deer, are another growing problem for lyrebirds and their habitat, as they feed on recovering vegetation, create wallows and damage and/or kill trees and other plants.
Superb Lyrebird weren't considered a threatened species before the 2019–20 bushfires, but now their population may no longer be secure.
Black Summer was a bushfire emergency of an incomprehensible scale, but since then, we've been busy coordinating our new Bushfire Recovery Program. This strategic, science-based program is helping us prevent the decline of our threatened birds – with a long-term focus on assessing the impact of bushfires and protecting habitat. Supported by the WWF and in partnership with La Trobe University, we're mapping the impact of the fires on Superb Lyrebirds and their habitat so that we can better understand how to protect them.
The Bushfire Recovery program aims to improve conservation outcomes for Australian birds impacted by the 2019–20 bushfires, with a focus on threatened species most imperilled by the fires.
For more information, check out: https://birdlife.org.au/projects/bushfire-recovery
---
Other possible results